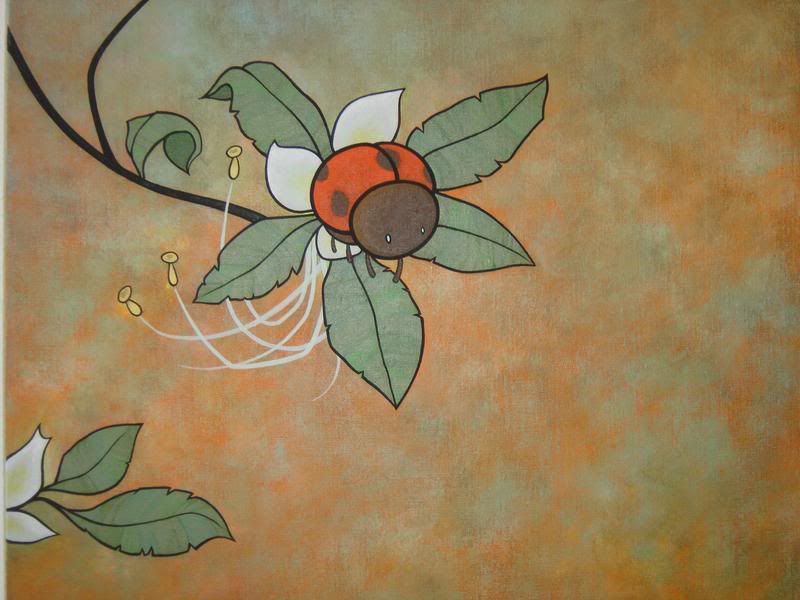 On June 1st and June 2nd,
Kurt Halsey Frederiksen
had two days of fan meeting and greeting at
Gallery 1988
for his solo art show "
a subtle existence, all the meanings in our moments shared
." He previously was unable to make an appearance on the show opening due to an eye ailment (good to see him doing well, no pun intended) but rescheduled this LA appearance for his much appreciative fans. I made it up to LA for the Saturday afternoon signing to meet Kurt Halsey!
Kurt's fans were just as ecstatic as I was to meet their hero as he signed work, traded smiles, and sketched on little post-it notes.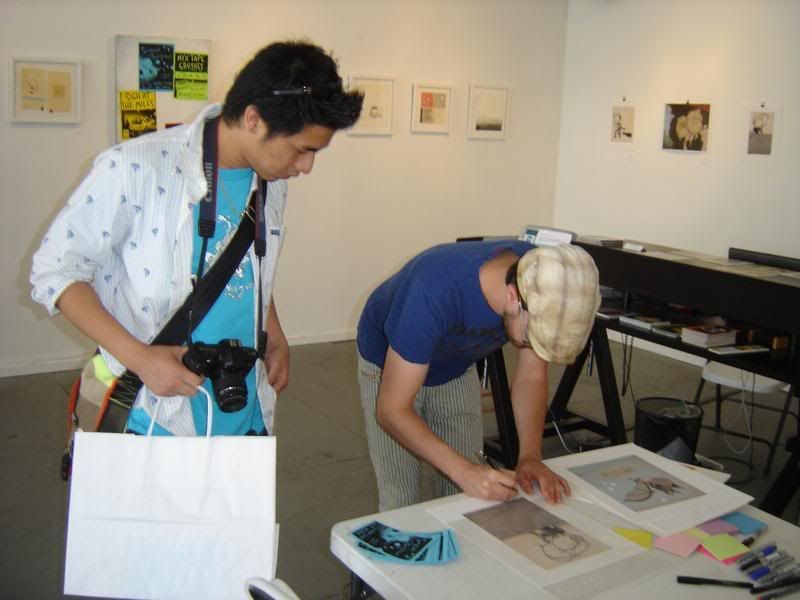 I'm grateful to have the chance meet Kurt - his artistic talent is only exceeded by his friendliness. We had a little chat and I let him know how much I appreciate his unique art.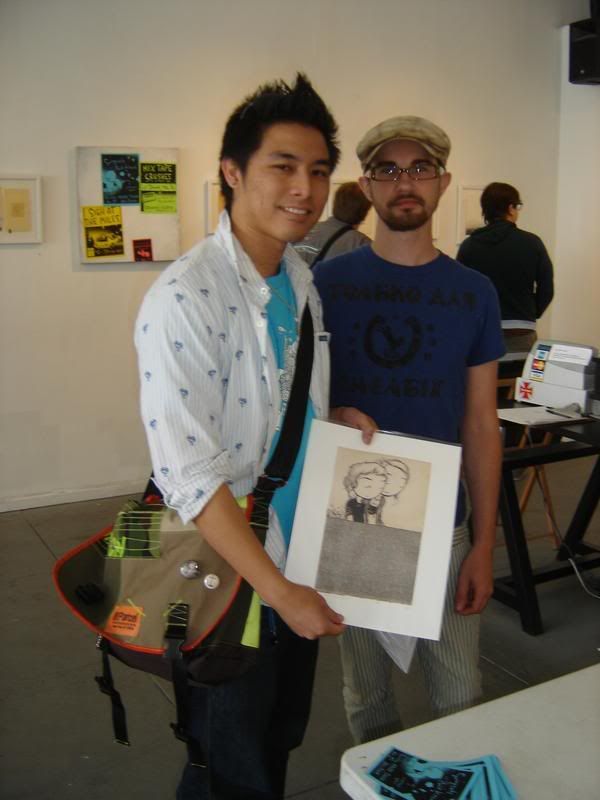 He signed the hand-embossed Flowers print (limited out of 50) available at the gallery.
He was also nice enough to sketch me, faux-hawk, chin-hairs, and all! To have your favorite artist create a rendition of you is awesome beyond words!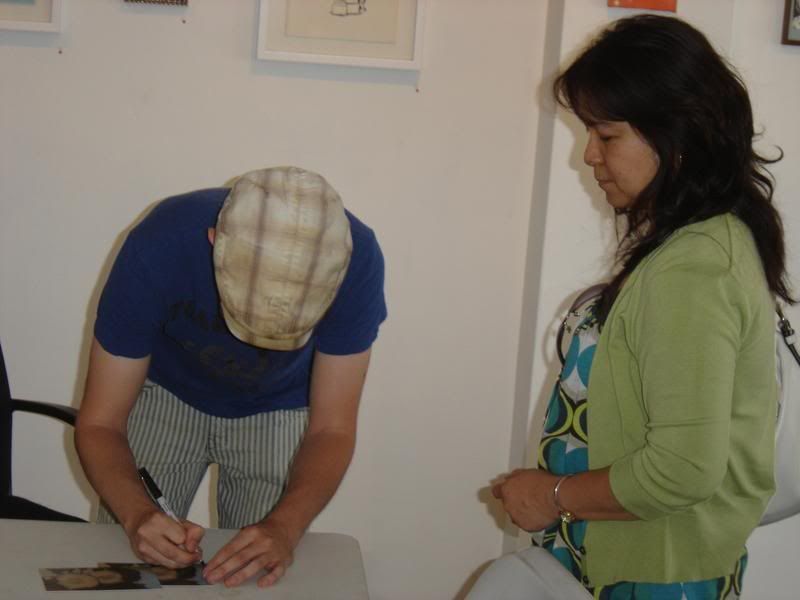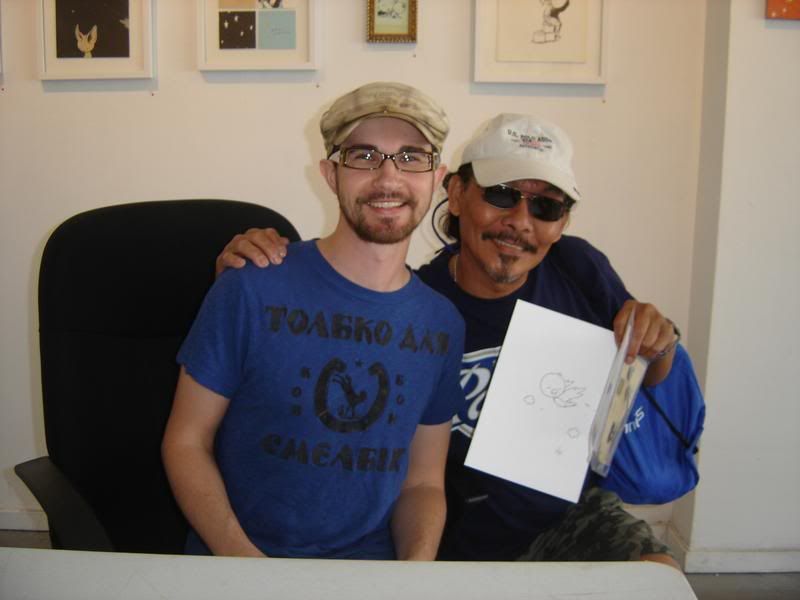 My parents, fellow rabid collectors and also Kurt Halsey fans after exposing them to his work, got some mementos of their own:
Umbrella
,
Picnic Table/ Swings,
and
Constant Consistency
postcards, available at the gallery.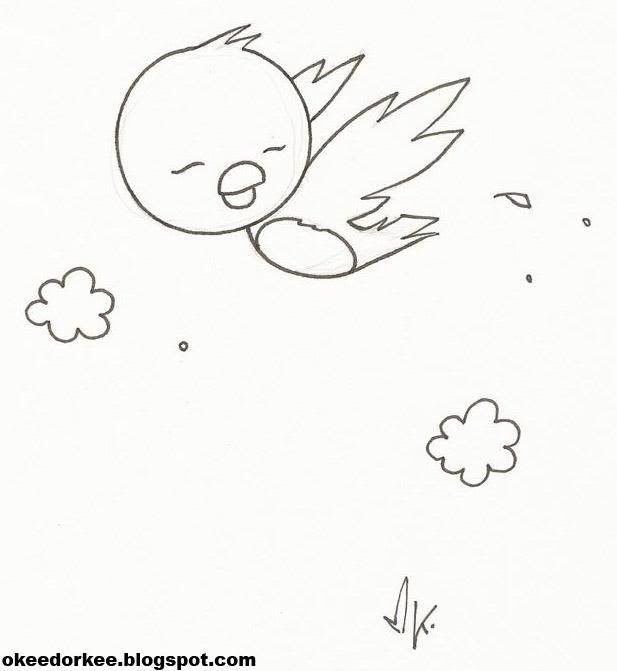 Plus a really cool bird sketch!
He even had "Swingsets and Park Kisses" fliers just like the one that makes up his collage
Untitled (Concert Posters)
!
Stay tuned for more:
a video of Kurt Halsey's drawing the aforementioned sketch of yours truly and 35mm photos as soon as they're developed!
*If you were unable to catch KHF's work in person, he will be selling some of new stuff at
Art Star Gallery & Boutique, PA
including the Umbrella poster which was initially sold in G1988.
Also still available (and on sale!) is a
5 poster pack featuring 5 of his works
as well as his
2007 calendar
! Show him some support!
see previous post:
Kurt Halsey Fredericksen's "A Subtle Existence..." at G1988