Avast all ye land lubbing dorks, nerds, and goobers on the interweb!

Now is it just me, or has anyone else noticed how freakishly popular swashbuckling pirate gear and swag has gotten over the past few years? I think it's all due to Disney's Pirates of the Carribean movie franchise craze. Just a theory. But anywho, before I go any further on all that rum-soaked rubbish let me take a sec to tell you all a bit about me and my claim to dorkdom:

My name is Nina and that means "Little Girl" in Spanish -- in case you didn't know. I think my name suits me quite well because I constantly act like a kid. Wee! What can I say? I suffer from Peter Pan syndrome and the occasional Writer's Block. I'm an English major, so that totally entitles me to be a weirdo too and hence my occasional Writer's Block.

As a kid, I loved being crafty and often doodled (mostly on the walls) and daydreamed instead of doing my homework. Come to think of it, I still do that! I also grew up on a heavy diet of Nintendo, Sega Genesis, My Little Pony, Care Bears, Strawberry Shortcake, Shera: Princess of Power, Teenage Mutant Ninja Turtles and all things Disney. I'm a ginormous Disney Dork -- you so don't want me to elaborate!

And as for my love of the fantastical eye candy and goodies that contemporary artists have been coming up with these days, I suppose I'd have to thank Mister rye-uhn-air-ick for that. He gave me a set of Kurt Halsey buttons as a graduation present three years ago. From there, I checked out Kurt's site, clicked on links to other art galleries and discovered Seonna Hong, Tokidoki, and Shag . . . which now brings me back to my bit on pirates.

Josh Agle, better known as Shag (he got his alias from taking the last two letters of his first name and the first two letters of his last name - Josh Agle), was comissioned by Disney to design merchandise for their 50th birthday celebration in 2005. With the birthday bash long-gone, a vinyl figure of his Pirates of the Carribean boy has been made for us to take home! And in two different colorways -- color and sepia.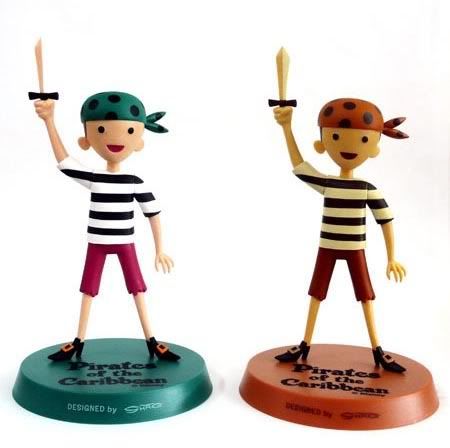 These guys can be purchased at Shagmart, Strange Kiss, and Rotofugi. Only 500 have been produced worldwide!

Alice in Wonderland's Chesire Cat has become quite popular in the Urban Vinyl/Art toy world and he's gone under various makeovers. Released earlier this year was the Pirate edition.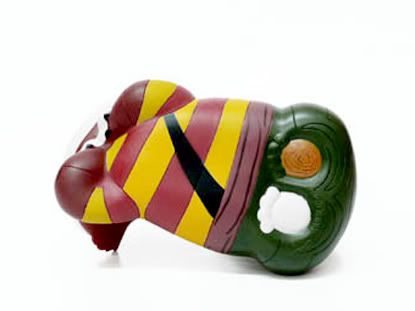 This peg-legged feline can be found for $75.00 (ouch!) at
Munky King
. He's a rare one.
Sailing away from Disney, but keeping with the "pirate" theme, I present to you Sket One's Blackbeard. He lands to shore on May 17 and comes with all the things a pirate could hoard: a treasure chest, map (to find the burried treasure!), hook, removable beard, eye patch and hat! Keep an eye out (since the other one should be covered with an eyepatch) for him on
Kidrobot
.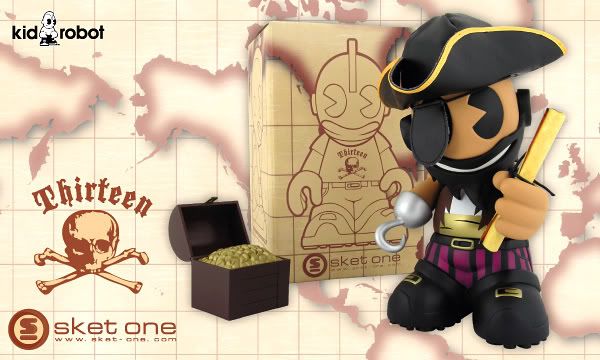 And lastly, Tokidoki. We here at Okee Dorkee are Tokidoki fanatics! But that can all be said in another blog. Once again, Simone Legno (Tokidoki creator and Okee Dorkee's homie), has teamed up with Lesportsac and released a fifth collection of bags and accessories with a "pirata" print for Spring 2007.