This past Sunday Juligie, MURSE1, and I checked out the Vinyl Toy Network Spring 2007 show at the Pasadena Convention Center. It was 3000 square feet of great artists and vendors exhibiting some of the latest and greatest toys.



Chris Lee's new figure from The Urbanites - Mellow complete with jello! There's always room for jello!



Some great figures from the imagination of Dave Pressler.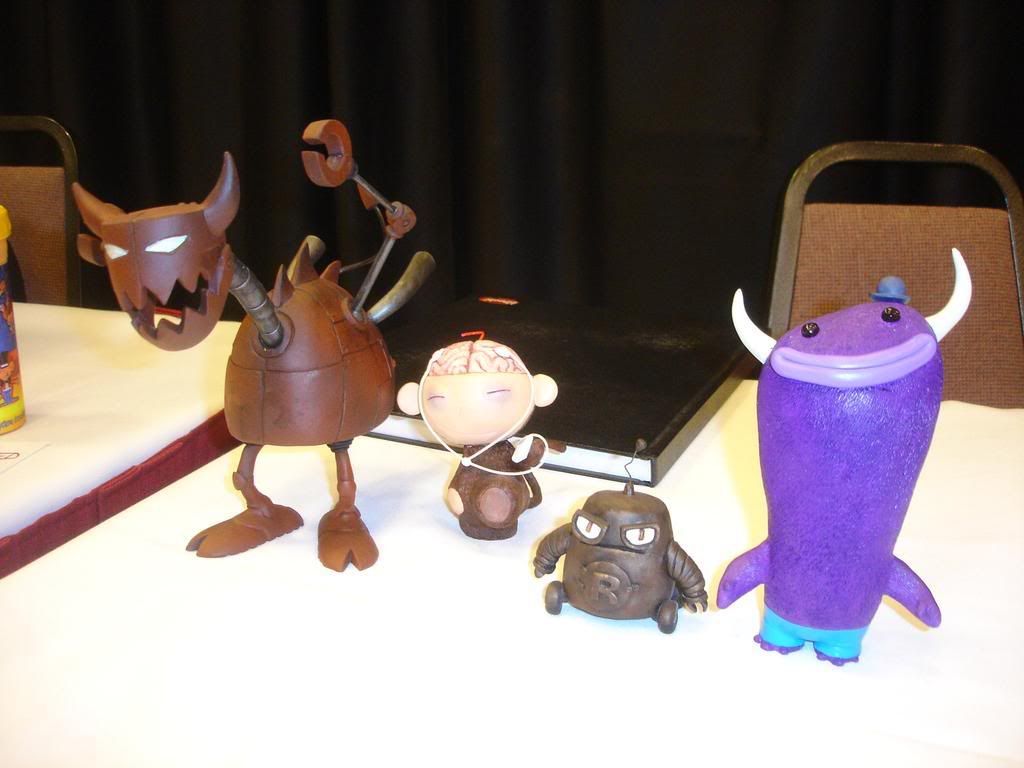 I love the detail and creative styles - I could relate a lot to these little guys!



Brian Castleforte displayed some of his wonderfully stylized NiceBunny paper toys. They're free to download and make at NiceBunny.com.


courtesy of butweloveyou.com
Also check out his monstrously cool But We Love You 'plush toys from outer space.' The ice cold Gozz is my favorite!



Shane Geil wasn't pulling any humorous subtlety punches with the VTN show premiere of his 11 inch sperm plush!


He also featured some his yummy looking rotisserie chicken plush in the same containers that you get real ones in!



Michelle Valigura's Pistol Pedro plush - probably the last 2 of 13 ever made exclusively for the show!


courtesy of vinylpulse.com
Amanda Visell, Michelle's partner in crime in the girls productions offered another exclusive to the show. Amanda created The Dragon Scout Set which was limited to 25 pieces and consists of a wood sculpture and print. Mr. Dragon, I think you're supposed to just eat the cookies, not the girls!


The good guys at Munky King were happy to pose with Michelle's works: a Switcheroo Robot Girl and the Pistol Pedro plush!



We picked up a couple of vinyl toys including three figures that were given away to the first 100 people (then to us by a very generous collector!): a Kaching Brands Mokoten Harajuku girl, Toy2R Qee collection series 1 Chopper Bear, and Gimix Vice Do's and Dont's Becky! We also snatched up a ToyFul Hello Kitty x Rody vinyl bobble, Kozik Mongers Herman, Touma KnuckleBear, Nanospore series 1 Gunther (this one was a rare variant!), and some Red Magic CiBoys!




©2007 JS3
I'm really partial to Red Magic's CiBoys. Their designs are usually modelled as parodies of pop culture icons or characters. For instance, their Star Wash series mocks Star Wars. I picked up these four CiBoys figures: From the Sh*t Fighter series (street fighter 2) I got E. Honderi and Miguile. From the Booze Lee (Bruce Lee) assortment I got Mr Black complete with little silver 'chucks, and from the new The Good Guy series (counter terrorism and law enforcement) I got a Deri The Bill. I really love these new sets and I won't rest 'til I get these: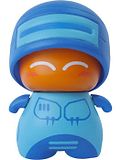 courtesy of redmagicstyle.com
Booze Lee Dying Game, SAS Gas Mask, and Robocop CiBoys!



Check out the rest of the vinyl goodness in my photo album here!

See you at the next vinyl toy show!