The first time I saw a Blythe doll was on VH1's I Love the 70s and they completely freaked me out. With their abnormally large heads and ability to change the color of their eyes with the pull of a string (blue, green, pink and orange) I thought, "That is the scariest and ugliest thing I've ever seen!" My tune has changed since, but more on that later.



Blythe dolls were originally produced by Kenner
(now owned by Hasbro)
and made their debut in 1972. But with poor sales, the big-headed darlings were quickly pulled off the shelves after just one year of being in production.
In 1997, photographer Gina Garan was introduced to Blythe from a friend saying she looked like the doll. With an old camera she had been given, she began taking photos of Blythe dolls and brought them with her everywhere she went. In 2000, Chronicle Books published a compilation of her photos in
This is Blythe
.
Somewhere in between all that, Blythe dolls began to gain popularity in Japan. In 2001, the first of the neo-Blythes (newer, up-dated dolls) were produced by Takara. And on eBay, original Blythe dolls jumped in price from $35 to $350. But nowadays, you'd be lucky to find an original Blythe for just $350 -- now they can be found for over $1000!!!
Yikes!
For a more thorough history, check out Gina's
site
.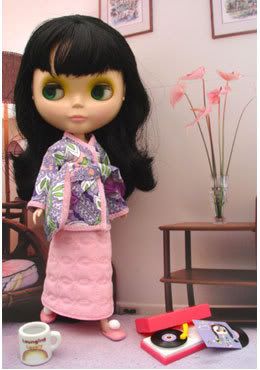 Ok, now fast-forwarding to present day. Blythe dolls are still ever so popular and have even reached an underground cult status. People take their dolls out and about and snap their own pictures of them, make dollhouses out of bookshelves, and customize their dolls like crazy. Just go on
Flickr
and type in Blythe -- you'll see!
I discovered my friend Jean had a fascination with Blythes and has one of her own
(actually, she now has 4)
. The two of us planned a little photo session with her Blythe, a
French Trench
named Sylvie, and some of my toys (vinyl figures + Uglydoll). Sylvie freaked me out at first, but by the end of our amateur photo spree, I became very intrigued and did some research.
And then I said, "I must have one!!!" Looking at all the photos on Flickr made me want to get in touch with my inner
Brian McCarthy
. I happened upon one Blythe model, the Lounging Lovely. With her black hair and retro pink & purple pajamas, I knew that was the one. Plus she was like a mini-me :) Jean knew I was itching for my own Blythe so she generously lent Sylvie to me -- I had her for almost a month.
[Photo by NiNa, doll owned by Jean]
Alright, well this is getting too long. Stay tuned for Part II where I'll talk more about the Blythe cult following, some steps people do in customizing their dolls, how owning a Blythe doll(s) is pretty much like having a child
(I made a room for mine for Pete's sake!)
, and I'll also show off my own little Blythe, Tigerlily! Actually, I'll just go ahead and sign off with a photo of her:
[Photo by NiNa, doll owned by NiNa -- don't steal my photos, please!]

More to come, stay tuned!